Jan Prokaj, Ph.D.
Founder
Using 3D Scene Structure to Improve Tracking
Problem
Aerial imagery collected over urban areas contains many occlusions for vehicles
Current tracking algorithms cannot track vehicles through such occlusions due to weak object appearance and complexity of motion prediction over long period
Approach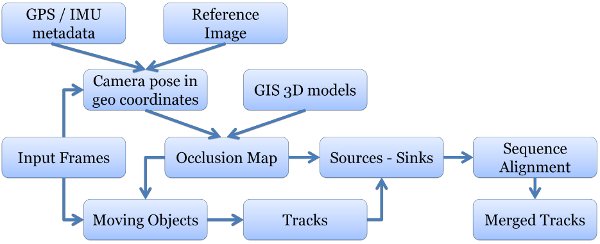 Use known 3D scene structure to estimate a dynamic occlusion map: binary map, which indicates what regions of the image are occluders of moving objects; dynamic due to camera motion

Video is not playable in your browser. Download from here.

Occlusion map.

Cluster track initiations and terminations near an occlusion map to find sources and sinks
Find corresponding source-sink pairs using the Hungarian algorithm
Match a sequence of tracks at the sink with a sequence of tracks at the source using dynamic programming
Merge the matched tracks
Results
| | | |
| --- | --- | --- |
| | Proposed Algorithm | Hungarian Algorithm |
| Correctly Linked | 58% | 42% |
| Incorrectly Linked | 3.4% | 5.8% |
Reference
J. Prokaj , G. Medioni . Using 3D Scene Structure to Improve Tracking. In IEEE Conference on Computer Vision and Pattern Recognition , pages 1337-1344, 2011.